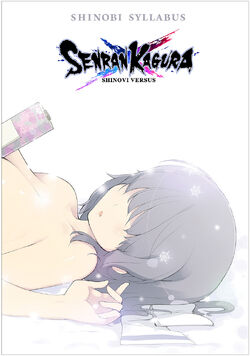 The Senran Kagura: Shinovi Versus -Shinobi Syllabus- is 140 page book that is included with the "Let's Get Physical! Edition" of the game in North America containing character profiles of the main playable characters, a store list of unlockable in-game dressing room content, art gallery, and a special message from the series' producer.
Contents
Character Profiles
The character profiles section goes in-depth about each character, giving producer commentary, general information, and gameplay strategy advice for using each of them in-game.
Gessen Girls Academy (p.2)
Yumi (p.4)
Murakumo (p.8)
Yozakura (p.12)
Shiki (p.16)
Minori (p.20)
Hebijo Clandestine Girls' Academy (p.24)
Miyabi (p.26)
Mursaki (p.30)
Imu (p.34)
Ryōbi (p.38)
Ryōna (p.42)
Hanzo National Academy (p.46)
Asuka (p.48)
Ikaruga (p.52)
Katsuragi (p.56)
Yagyū (p.60)
Hibari (p.64)
Homura's Crimson Squad (p.68)
Homura (p.70)
Yomi (p.74)
Hikage (p.78)
Mirai (p.82)
Haruka (p.86)
Store List (p.90)
The store list section of the book lists all the dressing room items that can either be bought from the store and unlocked through story progression. It also lists the amount of zeni needed to purchase them.
Art Gallery (p.94)
The art gallery section contains numerous illustrations such as key visuals and sketch art.
Message from Takaki-san (p.140)
"The SENRAN KAGURA series will continue to run non-stop.
That is the calling of a NINJA.
They run faster and jump higher than anyone.
They can easily jump over people's expectations.
These games still have potential to grow big and large.
Just like the girls' chests.
Tits are life, ass is hometown."
—Special Message from Producer, Kenichiro Takaki
Ad blocker interference detected!
Wikia is a free-to-use site that makes money from advertising. We have a modified experience for viewers using ad blockers

Wikia is not accessible if you've made further modifications. Remove the custom ad blocker rule(s) and the page will load as expected.