Roar (轟 - Todoroki, lit. "Roar") is Homura's Level 3 Secret Ninja Art in Senran Kagura 2: Deep Crimson. It requires 3 Ninja Art scrolls to use.
Overview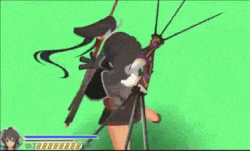 Homura cloaks her body in a crimson essence before she gets down on all fours; suddenly dashing right after. As she charges, she leaves a trail of fire that follows along the path that she sets until the end. It finishes with a vertical leap by Homura into the air, causing a fire-like beam to shoot up before landing back down on to the ground.
Trivia
This Ninja art was most likely incorporated into Homura's breach art. Note, the similarities with dashing in a fiery line.
Ad blocker interference detected!
Wikia is a free-to-use site that makes money from advertising. We have a modified experience for viewers using ad blockers

Wikia is not accessible if you've made further modifications. Remove the custom ad blocker rule(s) and the page will load as expected.