Ōka ryōdan (凰火両断, literally meaning: Great Bisect) is Ikaruga's Level 3 Secret Ninja Arts in Senran Kagura 2: Deep Crimson. It requires 3 ninja art scrolls to use.
Overview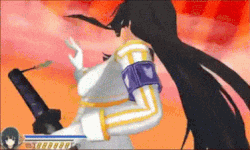 Ikaruga unsheaths Hien and places both hands on its handle. From there, the sword is immersed in a fiery blue aura as it extends and elongates in size. She then takes the sword and strikes down one time, creating a long beam that splits through the middle and travels outward towards the enemies.
Ad blocker interference detected!
Wikia is a free-to-use site that makes money from advertising. We have a modified experience for viewers using ad blockers

Wikia is not accessible if you've made further modifications. Remove the custom ad blocker rule(s) and the page will load as expected.